Shree Kantha Agro Product
Shree Kantha Agro Products delivers farm produce naturally to the customers. It was incorporated in the year 2018 and functioning at Thanjavur, Tamil Nadu, India. This organization commands a great deal of attention towards manufacturing and customer delight.
We are producing 100% Natural and Organic Coir Products to horticulture and agricultural requirements Coir is widely used as a growing medium for hydroponics crops, nurseries, vegetable and Fruits cultivation activities.
Since January 2020, we have extended our focus to cold pressed oil production space. We have a clear focus on quality and R & D activities to ensure the best products consistently. Currently we are producing Coconut, Sesame and Groundnut oil.
Our journey started with a vision to improve the economical status of the farmers through an ecosystem. In the process we are focusing on Purely natural products.
We express our sincere thanks to our beloved customers for their fabulous feed back and support.
Our beloved customer feed backs are motivating us continuously and we are confident of consistently devising new process with our strong principles.
Vision & Mission

1. Strive towards world class products and service to the customers.
2. Improve the economic status of the farmers through an ecosystem.
3. Achieve 100% Non-conventional energy-based production.
4. Enable water conservation through our process for a better future.
Locational Merits
Thanjavur is one of the well-known districts in Tamil Nadu for its intellectual capabilities. Producing traditional handicrafts, art plates, musical instruments and paintings are integral part of certain section of the population. Nevertheless, its economical outcomes are proving it to be one of the dominant agro based district of Tamil Nadu. The major source of the economy is from agriculture and allied activities. Above 75% of the available workforce depend on agriculture only. Women employees are contributing 98 % of our organizational manpower requirements.
The District has huge coconut and Oil seeds plantations in addition to the paddy cultivation across the district. Hence high quality raw material availability directly from the farmers for agro bases industries are significant. In addition to the local consummations the dry coconuts and other oil seeds are transported to various parts of the county for oil extraction and other value products making.
Manufacturing Facilities
Coir Plant: Coirpith blocks production and sales plant located at Marungulam in Thanjavur District, Tamil nadu, India.
Coir industry in India is one of the important rural industries. In our district It provides source of income for a huge number needy families . Women constitute about 80% of the work force in coir industry. The Coir industry has to its credit a tradition and heritage of centuries.
Mankind has been greatly gifted by Mother Nature. Coir is a versatile natural golden fiber extracted from the protective husk of coconuts and the residue after the extraction of fiber from the husk. Coir can be spun into a wide range of products that possess eco-friendly characteristics.
Coir pith is a material that binds the coconut fibre in the husk. It is an excellent soil conditioner and is being extensively used as a soil-less medium for agri-horticultural purposes.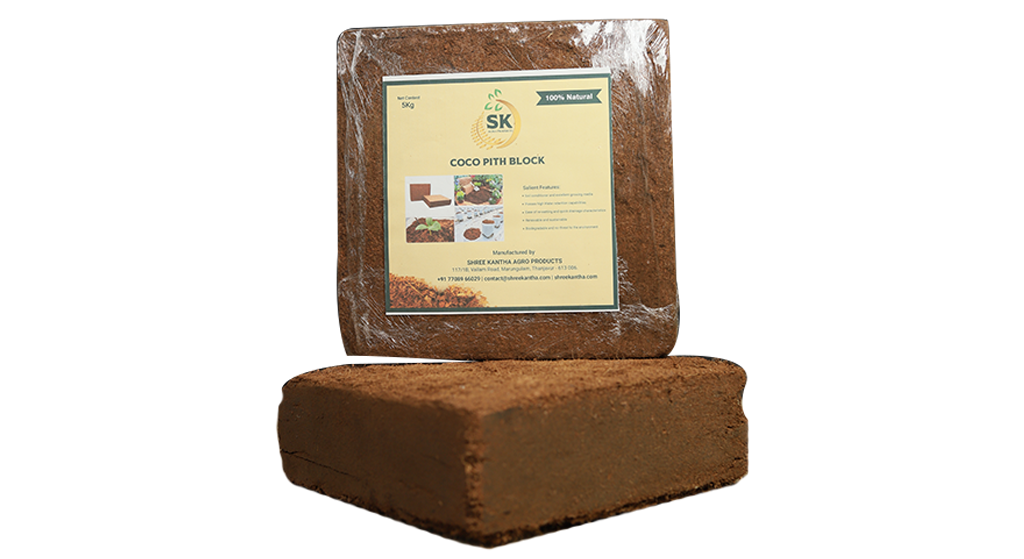 It has huge moisture retention qualities.. It is made out of the pith found between the fibers. The coir pith gets washed, dried, sieved and compressed into blocks of different sizes for easy transportation.
Coconut pith is 100% organic, odourless and pleasant to handle. Coconut pith is an earth friendly product because it is a Natural and Renewable Resource. Its widely used to grow seedlings, making potting mixes for gardening also used as bedding in Worm Bins.
Product Applications and Benefits
Coco Pith Blocks are widely used in Agriculture, Horticulture, floriculture , nurseries and also Landscaping purposes
Since its biodegradable, it poses no detrimental disposal problems to the environment
Through its renewable and sustainable characteristics its being widely used as an excellent growing media
It is also used as a soil conditioner and in some cases as a soil substitute
With its moisture retention qualities and soil conditioning capabilities it is being extensively used as a soil-less medium for agri-horticultural purposes
Due to its water retaining capacity daily watering is not necessary for wherever its being used